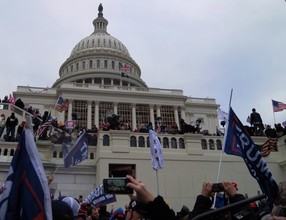 By Roger Parloff
Lawfare
December 3, 2022
I already offered my account of the strengths and weaknesses of the evidence in the Oath Keepers seditious conspiracy prosecution on Monday morning. For their part, the daily media have by now aptly explored the key takeaways from the jury's Tuesday evening verdicts in that case.
For readers' assistance, here is a useful chart of the jury's verdicts on each of the 10 counts as they relate to each of the five defendants. In addition to the guilty/not guilty binary, I have a few stray, in-the-weeds thoughts on the verdicts that I'd like to share after live-tweeting all but about two hours of the 29-day trial from the courthouse media room. I'll do so here in listicle form—a format woefully underutilized by Lawfare:
1. While the U.S. Department of Justice and many observers are understandably celebrating the department's smashing victory, there is also a footnote worth mentioning here. It doesn't undercut the government's win, which is real and plain: The jury convicted the two top defendants, Elmer Stewart Rhodes III and Kelly Meggs, of the rare and grave seditious conspiracy charge, while also convicting every defendant of at least two felonies carrying maximum 20-year sentences.