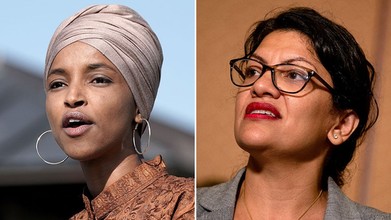 By Zack Budryk
TheHill
February 5, 2020
Reps. Ilhan Omar (D-Minn.) and Rashida Tlaib (D-Mich.), the first Muslim women elected to Congress, highlighted the traditional Somali and Palestinian outfits, respectively, they wore to the address.
"I'm joining my sisters in Congress in wearing white–my white #PalestinianThobe–to #SOTU," Tlaib tweeted, referencing other woman Democratic congresswomen who wore white as a reference to the suffragist movement. "Being #unapologeticallyMe is my way of protesting this #ImpeachedPresident."
"Yes sis, our presence is resistanceI am wearing my Ayeeyo's Cambuur garbeed and bringing the Arawelo spirit to the people's house," Omar added, quote-tweeting Tlaib's tweet.