Klayman: Next Gay Pride Event Belongs in Gaza!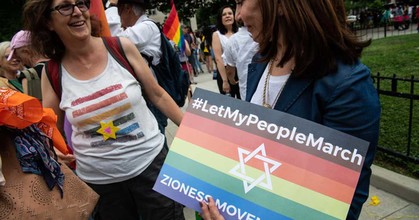 Daily Wire
June 10, 2019
The Washington, D.C., "Dyke March" turned away Jewish marchers carrying LGBT pride flags emblazoned with the Star of David Saturday, making good on a threat to turn away anyone who showed up to the event with a Jewish pride of Israeli flag.

The D.C. Dyke March announced the policy last week, telling potential attendees of the event, billed as "an all-inclusive celebration of underrepresented people," that symbols of "Zionism" would not be tolerated -- even though the event organizers explicitly said they would allow Palestinian flags, according to the Washington Times.

Last year, organizers at the Chicago Dyke March enforced a similar policy, ejecting anyone from the LGBT Pride event who openly expressed support for the Jewish state, even though Israel is one of the only gay-friendly Middle Eastern countries. Organizers issued the ban in support of "intersectionality," and out of concern for "Zionism" within their ranks, which they consider akin to "oppression."



Your help is urgently needed!
Support our cause and join our fight!