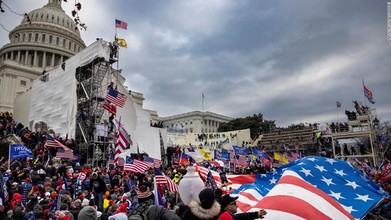 By Holmes Lybrand, Andrew Millman and Katelyn Polantz
CNN
January 27, 2022
(CNN)A federal judge appeared unconvinced on Wednesday that Donald Trump should be allowed to testify at a trial of a US Capitol riot defendant who is arguing the former President could be a helpful witness.
Judge Reggie Walton said that having Trump and his allies testify would not necessarily help Dustin Thompson's defense, which plans to argue that Trump and others goaded his supporters to storm the Capitol. Thompson is accused of entering the Capitol and stealing a coat rack.
"I just (didn't) see what more you get having them come into court to testify," Walton said during the hearing, pointing out the defense could play videos of what Trump and others said at a rally that preceded the attack.