Klayman: More Proof That Police and the Military Are Seen as a Threat by and to Biden-Harris and the Left!
Order "It Takes a Revolution: Forget the Scandal Industry!" at BarnesandNoble.com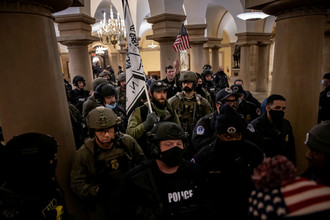 By Kyle Cheney
POLITICO
May 1, 2021
The Capitol Police's highest-ranking commander on the ground during the Jan. 6 insurrection, Eric Waldow, is the official who urged officers to watch out for anti-Trump protesters in the massive pro-Trump crowd, according to congressional and Capitol Police sources.

That directive, delivered on the morning of Jan. 6 via a Capitol Police radio transmission, has alarmed lawmakers who were already worried that the leadership of the Capitol Police had failed to appreciate the gravity of the threat pro-Trump extremists posed to Congress that day.

Waldow, a deputy chief and the sixth-ranking official in the Capitol Police Department, was a Jan. 6 "incident commander," meaning he was responsible for directing officers' movements amid the chaos. He leads the Capitol Police's riot control force and is among a small group of senior officials who would have had access to the latest intelligence about the possibility Congress itself could be the target of an attack by extremist Trump backers.



Your help is urgently needed!
Support our cause and join our fight!