Klayman: More Proof Joe Biden Is a Limp Fish With No Principles and Also Braindead!
Order "It Takes a Revolution: Forget the Scandal Industry!" at Amazon.com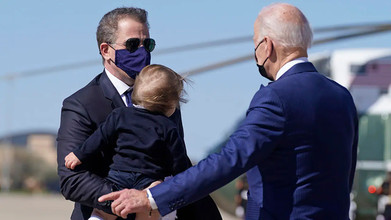 Fox News
April 4, 2021
Hunter Biden convinced his father Joe in early 2017 to put out a statement approving of the affair he was having with his deceased brother Beau's widow, Hallie Biden, telling Joe that if he didn't, the relationship would "seem wrong."

"'Dad,' I told him, 'if people find out, but they think you're not approving of this, it makes it seem wrong," Hunter Biden wrote in his book, "Beautiful Things," to be released April 6. A copy of the book was obtained by Fox News.

He approached his father only after he was put "in a box" by a reporter calling to confirm or deny the relationship. Biden had left the vice presidency only a month before, according to Hunter Biden. He told his father he and Hallie were "incredibly lucky" to have found each other.



Your help is urgently needed!
Support our cause and join our fight!