Klayman: More Coverup by US Gov't: It Knows Alien Craft Are Here!
Order "It Takes a Revolution: Forget the Scandal Industry!" at BarnesandNoble.com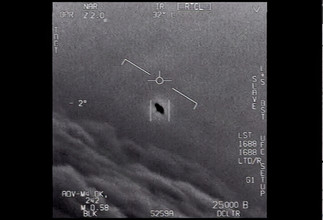 Phys
June 6, 2021
The blob, captured on distant, fuzzy video by Navy pilots, seems to skitter just above the ocean waves at improbable speed, with no discernible means of propulsion or lift. "Oh my gosh, man," one aviator says to another as they laugh at the oddity. "What ... is it?"

Is it a bird? A plane? Super drone? An extraterrestrial something?

The U.S. government has been taking a hard look at unidentified flying objects like this one. A report summarizing what the U.S. knows about "unidentified aerial phenomena"—better known as UFOs—is expected to be made public this month.



Your help is urgently needed!
Support our cause and join our fight!