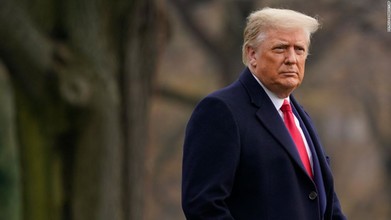 By Kaitlan Collins and Kevin Liptak
CNN
December 31, 2020
(CNN)President Donald Trump and first lady Melania Trump headed back to Washington Thursday morning in a departure that was earlier than anticipated as some Republicans plan to delay certification of President-elect Joe Biden's election win when Congress meets next week.
The Trumps took off in Air Force One from Palm Beach International Airport and are expected back in the capital later Thursday afternoon.
Trump left Palm Beach before his annual New Year's Eve party, even though guests had already gathered at his south Florida club and were told Trump would be in attendance, according to three people familiar with the matter. The President typically relishes appearing on the red carpet in front of the press and his friends, but is skipping the event altogether this year in what will be an unusual move.