Klayman: Mike Lindell Is Right About Fox News! Exploitive and a Tool of the Corrupt and Not Conservative Republican Establishment!
Order "It Takes a Revolution: Forget the Scandal Industry!" at BarnesandNoble.com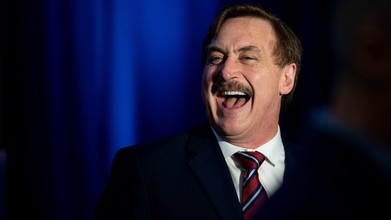 By Zachary Petrizzo
The Daily Beast
November 21, 2021
MyPillow CEO and 2020 dead-ender Mike Lindell has announced plans to organize a protest outside Fox News' New York City headquarters. "We are going to do something out in front of Fox News, I think we should have—you know, if people want to go down there, maybe we should give out Frank Speech signs," Lindell stated on his Friday evening broadcast. "They [Fox News] are a big part of our country being taken from us," he continued, before calling the network he built his pillow empire by advertising on "controlled opposition," which he said is the "worst" he has "ever seen in history."

As The Daily Beast has reported, the pillow tycoon—after cutting ties with the network over not airing one of his conspiracy theory-laced ads—has attempted to get back into the good graces of Fox News, but has had little success. Late on Saturday night, Lindell's sidekick, Douglas Frank, took to Telegram to claim that Fox News is "not a credible source of news" while calling their top primetime hosts "traitors to our country." Neither Lindell nor a Fox News spokesperson immediately returned a Daily Beast request for comment.



Your help is urgently needed!
Support our cause and join our fight!