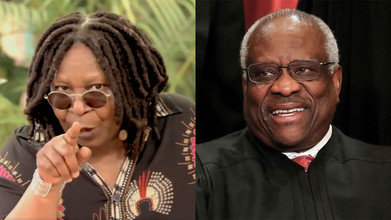 By Joseph Wulfsohn
Fox News
June 28, 2022
"The View" co-host Whoopi Goldberg lashed out against Justice Clarence Thomas following the Supreme Court's historic ruling overturning Roe v. Wade.
Following Friday's stunning reversal of a roughly 50-year precedent that federally protected abortions, the ladies of the ABC daytime program took turns trashing the Supreme Court's decision while broadcasting from the Bahamas.
"I want to make things very clear — I'm very pro-life. I've never been anti-life. I want people to have the lives they want but I don't want to force anybody — I don't want anybody coming in my house telling me how to raise my daughter and what she needs because they don't know," Goldberg said on Monday.