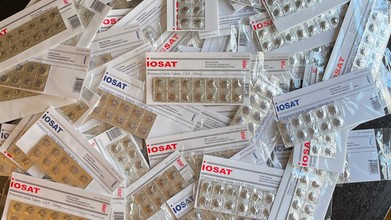 By Parija Kavilanz, CNN Business
CNN
March 15, 2022
New York (CNNBusiness)As Russia's assault in Ukraine intensifies, fear of radioactive fallout from accidental or intentional attacks on Ukraine's nuclear plants, or from the use of a nuclear bomb, has triggered surging demand for potassium iodide pills.
In such an event, there's the frightening risk of large amounts of radioactive iodine (or radioiodine) being released into the atmosphere which can be breathed into lungs as well as contaminate water, soil, plants and animals, according to the Centers for Disease Control and Prevention.
Although potassium iodide itself isn't harmful and is an important chemical that's needed by the human body, the CDC says radioactive iodide can harm the thyroid, a butterfly-shaped gland in the front of the neck that produces many of the hormones that regulate the body.