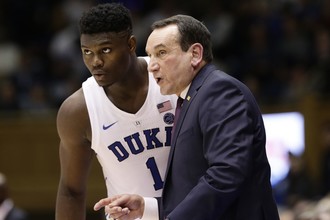 Bleacher Report
May 12, 2020
Duke men's basketball coach Mike Krzyzewski may reportedly be deposed as part of Gina Ford's lawsuit against former Blue Devils star Zion Williamson.
Pat Forde of Sports Illustrated reported the news, noting lawyers for Ford, who is with Prime Sports Marketing and used to represent Williamson, are in the discovery process of the suit and are looking into various people to potentially depose.
That includes the legendary coach.
"We are leaving no stones unturned, if you get my message," attorney Willie Gary said when asked if Krzyzewski will face a deposition.