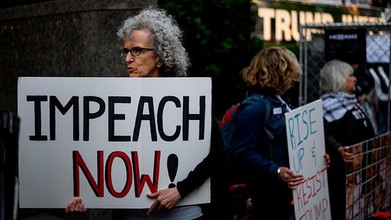 By Adam Shaw
Fox News
June 15, 2019
Activists took to the streets Saturday to hold rallies calling for the impeachment of President Trump, as they seek to pile further pressure on Democratic leaders in Congress to back a push to oust the president.
"Donald Trump's abuses of our communities and country demand action from Congress, which has the responsibility and authority to hold Trump accountable," a website page for the "#ImpeachTrump: Act to Defend Democracy" national day of action by left-wing group MoveOn read. "The next crucial step is an inquiry into whether to draft articles of impeachment."
The call included a note that the actions "are intended to be nonviolent and peaceful" and that organizers expect protesters to "act lawfully" and de-escalate any confrontation.