Klayman: Lachlan Murdoch's Main Boy at the New Leftist Fox News!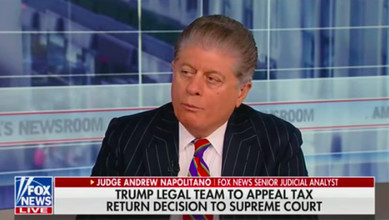 Newsweek
November 4, 2019
A New York federal appeals court ruled on Monday that Trump's tax returns can be turned over to criminal investigators in the state. The 2nd U.S. Circuit Court of Appeals' judgment, which is expected to be challenged, came after the president's attorneys argued that he is exempt from state criminal law due to his position in office. In response, the three-judge panel decided that "any presidential immunity does not extend to investigative steps like the grand jury subpoena at issue here."

Hours after the ruling, Napolitano appeared on Fox News and predicted that Trump's attorneys will appeal the decision, which will likely be heard by the Supreme Court "on an emergency basis."

"The United States Court of Appeals for the 2nd Circuit, that's right below the Supreme Court, ruled that there's no broad immunity for the president for behavior he engaged in before he was in the White House," Napolitano explained. "This subpoena is for his tax returns and the Trump organization corporate records from 2015 and 2016. It also ruled that since the subpoena is not to him, it's to his accountants, it doesn't require him to do anything that might be disruptive of his job as president."



Your help is urgently needed!
Support our cause and join our fight!