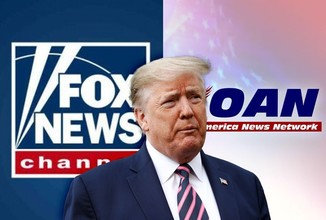 By Roger Sollenberger
Salon
May 7, 2020
Investors aligned with Donald Trump Jr. and Republican National Committee (RNC) co-chair Tommy Hicks Jr. have acquired a major stake in One America News Network (OANN), sources familiar with the deal told Vanity Fair.
"Tommy Hicks and Don Jr. have been looking to buy a station for Trump TV," a person briefed on the negotiations told Vanity Fair.
"This is all about building a Fox competitor. Trump is really aiming to take down Fox," the person said.
The report is the first to connect the Trump family to the acquisition, discussions of which were first reported in January by the Wall Street Journal.