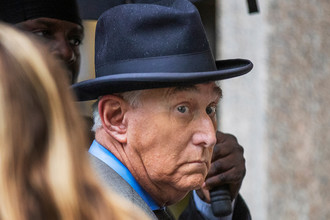 By Josh Gerstein
POLITICO
July 7, 2020
President Donald Trump's longtime political adviser Roger Stone is mounting a last-ditch bid to get a federal appeals court to put off the 40-month prison sentence he is facing after being convicted of trying to thwart a congressional investigation into alleged ties between the 2016 Trump campaign and Russia.
Attorneys for Stone asked the D.C. Circuit Court of Appeals on Monday for an emergency stay of U.S. District Court Judge Amy Berman Jackson's ruling last week putting Stone, 67, under house arrest at his Fort Lauderdale home and directing him to report to a federal prison camp by July 14.
Stone's lawyers say an undisclosed medical condition he suffers from leaves him at greater risk of death if he catches coronavirus, that his chances of being infected behind bars are high, and that the prison complex in Jesup, Ga., where he is supposed to serve his term is now reporting a half-dozen cases of the virus among inmates and three among staff.