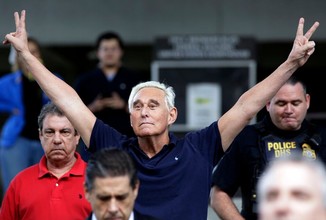 By Marisa Schultz
Fox News
June 28, 2020
President Trump Saturday promoted a petition effort to pardon Roger Stone a day after a judge ordered his former campaign advisor to report to his upcoming prison term, which Stone dubbed a "death sentence."
Trump retweeted a post about a growing petition to urge the president to give Stone, a former GOP political operative, a full and unconditional pardon.
"IT'S TIME TO #PardonRogerStone," Trump's retweet read.
Trump has long been sympathetic to Stone's case and said in February that his ally "has a very good chance of exoneration." Saturday's tweet further raises speculation that Trump will intervene on behalf of Stone, who has been pleading for help to avoid prison.