Klayman: If Lindell Wrongly Goes to Prison As "The My Pillow Guy" Then Biden Who Should Be in Prison Should Go As "The Braindead Guy!"
Order "It Takes a Counter-Revolution!" at Amazon.com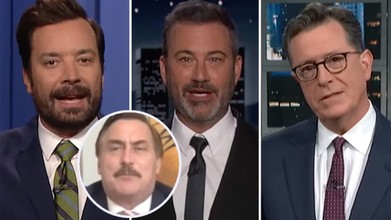 Yahoo News
September 17, 2022
Mike Lindell reportedly had his phone seized by the FBI this week while at a Hardee's in Minnesota. And obviously, the hosts of television's late night shows couldn't resist mocking the situation on Wednesday.

"Welcome to Hardee's, you have the right to remain silent," Stephen Colbert joked, while Jimmy Fallon wished Lindell good luck. "I'm not sure you wanna go to prison known as the MyPillow guy," the "Tonight Show" host said.



Your help is urgently needed!
Support our cause and join our fight!