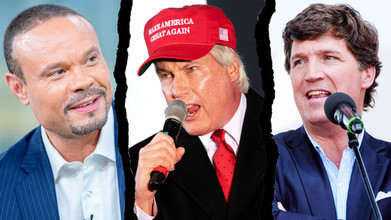 By Zachary Petrizzo
The Daily Beast
December 2, 2021
The Kyle Rittenhouse acquittal left unexpected fallout among a cast of conservative pundits in its wake, fueled by the teen's QAnon-friendly former lawyer who has threatened legal action against Fox News stars Tucker Carlson and Dan Bongino.
After fellow right-wingers criticized him for his actions while representing Rittenhouse—particularly citing how he kept his client behind bars for an extended period of time—Lin Wood, the controversial defamation lawyer and Q-touting conspiracy theorist, has responded with a slew of legal threats. The resulting war of words has deteriorated to such a degree that now Wood has resorted to mocking the physical appearance of Bongino's skull and "bruis[ed]" left eye.
After last month's not-guilty verdict, Rittenhouse sat down for an interview with Fox News' Tucker Carlson. The teenager ripped into both Wood and another ex-attorney, John Pierce, claiming the duo took "advantage" of him. After the interview's airing, Wood claimed to The Daily Beast that the teen was being "manipulated" to speak out against his ex-lawyer.