Klayman: Hillary Would Sell Her Daughter: Why Not! She Sold Everything Else to China and Russia and Anyone Who Would Line Her Pockets! See www.freedomwatchusa.org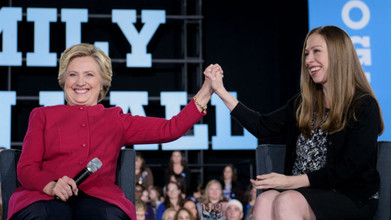 By Brandon Carter
TheHill
July 16, 2017
Chelsea Clinton fired back at a Fox News contributor on Saturday who said that her mother, former Democratic presidential nominee Hillary Clinton, would "literally sell her daughter" to be president.

On Fox News's "The Five," contributor Lisa Boothe called Hillary Clinton "the most soulless woman on the planet."

"[She] would literally sell her daughter to be president, literally sell her only child to be president," she said.



Pre-order 'Essays of a Mad Man'
A four-volume compilation of Larry Klayman's writings from 1999-onward, comprising of the Clinton years, the Bush years, the Obama years & the Trump years