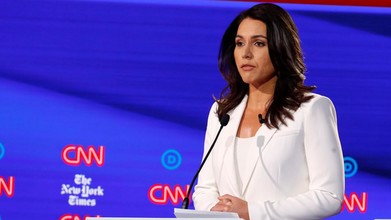 By Gregg Re
Fox News
October 21, 2019
Talk show host Tony Katz says Hillary Clinton is fixated on her 2016 presidential election loss.
Speaking directly to the camera in a video message posted on social media on Sunday, 2020 presidential candidate Tulsi Gabbard suggested that Hillary Clinton recently "smeared" her as a "Russian asset" as payback for Gabbard's defiance of the party establishment in 2016.
"If they can falsely portray me as a traitor, then they can do it to anyone — and in fact, that's exactly the message they want to get across to you," Gabbard, a Democrat, said in the video.