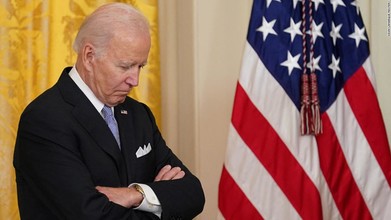 By Analysis by Chris Cillizza, CNN Editor-at-large
CNN
June 7, 2022
(CNN)President Joe Biden's political honeymoon lasted six months. His messy marriage with the American public has now lasted almost twice as long.
An analysis of Gallup's polling on Biden's job approval ratings since his January 2021 inauguration reveals that the President's middling numbers are remarkably consistent over the past year.
The last time that Biden had the approval of a majority of the American public in a Gallup survey was in July 2021 (Biden's approval was right at 50%). The last time Biden's job approval rating was higher than 45% in Gallup's polling was August 2021, when it stood at 49%.