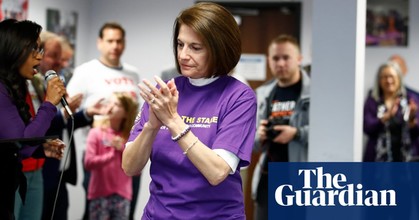 By Lauren Aratani
the Guardian
November 13, 2022
After the Democrat Mark Kelly was declared the winner of his Senate re-election race in Arizona, the outcome of a tight race in Nevada will determine whether Democrats can secure a majority in the upper congressional chamber without having to hold their breath until the December runoff in Georgia.
The race between Nevada's Democratic incumbent, Catherine Cortez Masto, and her Republican challenger Adam Laxalt, the state's former attorney general, got even closer on Saturday when a batch of counted votes were reported. Just 862 votes make up Laxalt's lead. About 25,000 mail-in ballots and 15,000 ballots that need "curing," or correcting by the voter, have yet to be reported.
Laxalt tweeted on Saturday morning that that the race appeared to be inching away from his favor.