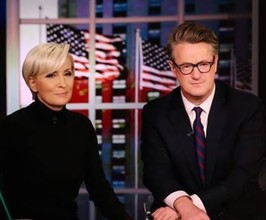 AL.com
December 9, 2017
MSNBC's morning political program "Morning Joe," will broadcast live from Alabama on election day.
Joe Scarborough will be joined by co-hosts Mika Brzezinski and Willie Geist at Char Bar No. 7 at Lane Parke in Mountain Brook on Dec. 12.
The program airs from 5 a.m.-8 a.m. CT and will include a live audience. The broadcast comes as Alabamians go to the polls to decide between Republican Roy Moore and Democrat Doug Jones. The special election has drawn international attention which grew after Moore, the former Alabama Chief Justice, was accused of having improper sexual contact with teenage girls in the 1970s.