Klayman: Graham Falsely Like the Rest of the Worthless Republicans Promised Action On Fusion GPS and the Steele Dossier! More Hot Air and Deception for Conservative Consumption Ala Sean Hannity and Co. At Fox News!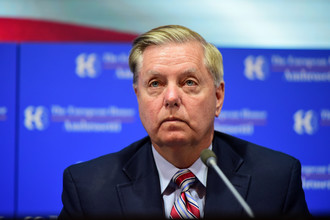 By Brendan Cole
Newsweek
September 9, 2019
A tweeted image of South Carolina Senator Lindsey Graham smiling with far-right Dutch politician Geert Wilders was deleted soon after it appeared on social media.

Wilders, leader of the Party for Freedom (Partij voor de Vrijheid or PVV) in the Netherlands, posted the image of the pair at the annual security conference, the Ambrosetti Forum, in Italy's Lake Como on Saturday.



Your help is urgently needed!
Support our cause and join our fight!