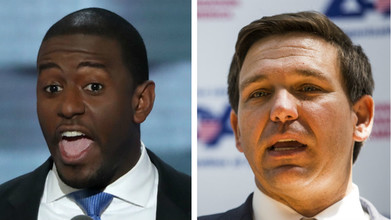 By Avery Anapol
TheHill
October 22, 2018
Former GOP Rep. Ron DeSantis (Fla.) on Sunday dodged a question about whether President Trump is "a good role model for the children of Florida," drawing criticism from Democratic opponent Tallahassee Mayor Andrew Gillum in their first gubernatorial debate.
DeSantis began his answer to the question by defending a viral campaign adin which he showed his support for Trump by teaching his kids to "build the wall" with blocks.
"I don't actually read 'The Art of the Deal' to my son, Mason," he said.