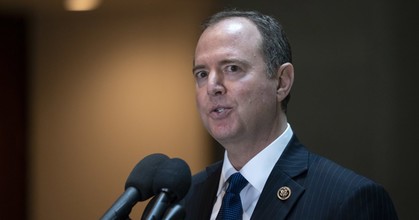 Washington Examiner
February 24, 2019
The ski resort meeting between Rep. Adam Schiff, D-Calif., and the founder of Fusion GPS shows that the House Intelligence Committee chairman is the wrong person to trust with leading a serious, unbiased inquiry.
For more than two years, Schiff has led the fight to make the Russia-collusion narrative stick. But the jig may finally up.
The Russia story, of course, got its start during Hillary Clinton's failed presidential campaign. Robby Mook, John Podesta, and the rest of the Clinton brain trust did everything they could to sell Americans on it, even paying a group of "consultants" working for Fusion GPS, including a former spy and the wife of a high-ranking DOJ official, to write a "dossier" on then-candidate Trump.
See also: UPDATE: FW Schiff Investigation!; Deportation Petition vs. Radical Muslim Rep. Ilhan Omar; Trump Impeachment Likely!