Klayman: Federal Judge Walton Is Right for the Wrong Reason: A Civil War Has Begun by the People Thanks to Total Corruption in All Three Branches of Gov't!
Order "It Takes a Counter-Revolution!" at Amazon.com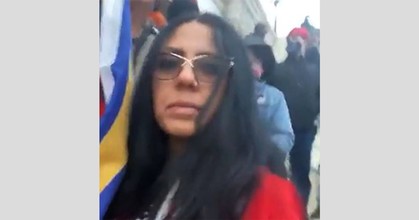 NBC News
February 25, 2022
A Donald Trump supporter who entered the U.S. Capitol through a broken window and declared "this is war" on Jan. 6 was sentenced to 45 days behind bars on Wednesday.

Mariposa Castro, also known as Imelda Acosta, went live on Facebook on Jan. 6 when she was at the western front of the Capitol, where some of the most violent attacks on law enforcement during the Capitol siege took place. While atop the inauguration platform, she also entered the Capitol building.

U.S. District Judge Reggie B. Walton sentenced Castro on Wednesday morning, saying she appeared "gleeful" and "happy" about what was happening on Jan. 6. He also assessed a $5,000 fine, saying the attack of Jan. 6 "totally undermined" the peaceful transfer of power.



Your help is urgently needed!
Support our cause and join our fight!