Klayman: Establishment Repubs Sell Out Trump and We the People: Now Mr. President, Shut the Worthless Government Down!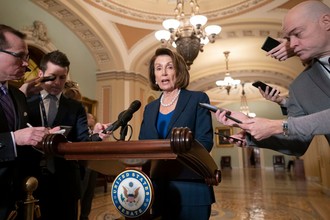 By Erica Werner, Damian Paletta, Seung Min Kim
Washington Post
December 19, 2018
President Trump on Tuesday abandoned months of strident demands for Congress to give him $5 billion for his border wall, bowing to political reality as Republicans scrambled to avoid shutting down large portions of the government this weekend.

It was a stunning turnaround from one week ago, when Trump told Democratic congressional leaders during a bizarre on-camera sparring match that he'd be "proud" to shut down the government to get his wall money. Instead, White House press secretary Sarah Sanders said Tuesday, Trump does not want a shutdown and will identify "other ways" to fund a wall along the U.S.-Mexico border.



Your help is urgently needed!
Support our cause and join our fight!