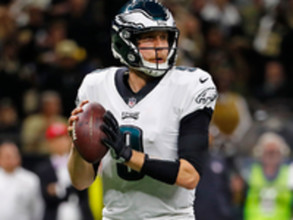 NFL.com
February 2, 2019
Nick Foles and the Philadelphia Eagles are taking their next step.
The Eagles are expected to pick up Foles' 2019 contract option for $20 million, NFL Network Insider Ian Rapoport reported Saturday on Super Bowl LIVE.
Thereafter, Rapoport added, Foles would likely give Philadelphia $2 million to essentially "buy his freedom," Rapoport said, and become a free agent. From there, the Eagles would likely put a franchise tag on Foles and look to trade him after. Another possibility is that after Foles pays the $2 million buyout, Philly could let him go into free agency and gain a compensatory draft pick.