Klayman: Democrat Party Has Become Thanks to Obama and the Likes of Ellison an Anti-Semetic and Anti-Christian Bastion of Radical Black Muslims Like Farrakhan!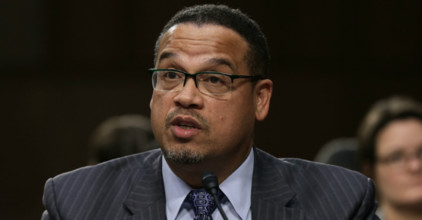 By Alex Griswold
Washington Free Beacon
February 13, 2018
Rep. Keith Ellison (D., Minn.), deputy chairman of the Democratic National Committee, attended a private event with Nation of Islam leader Louis Farrakhan and Iranian President Hassan Rouhani in 2013, according to a newly resurfaced report.

Anti-bigotry organizations have long pegged Farrakhan as both racist and anti-Semitic, citing his praise of Adolf Hitler, his obsession with Jews, and his belief that white people are subhumans created by an ancient African scientist.


---
Urgent Petition
We the People Call On President Trump and Attorney General Sessions to Appoint Larry Klayman as Special Counsel to Investigate the Clinton Email, Uranium One, and Fusion GPS Scandals! We Also Support Freedom Watch's Suit to
Remove Robert Mueller as Special Counsel
Updated Dec. 2, 2017, to include Mueller lawsuit
Your Name:
Your Email:
Phone Number:
Street Address:
City:
State:
Zip:
Receive Freedom Watch updates
Petition Signers — Live Results
Loading...

Your help is urgently needed!
Support our cause and join our fight!