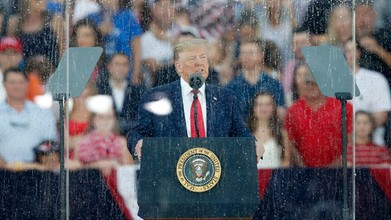 By Lukas Mikelionis
Fox News
July 5, 2019
The president delivers a 'Salute to America' speech on the National Mall in Washington, D.C. Democratic strategist Jonathan Harris and Republican strategist Peter Van Voorhis react.
President Trump struck a patriotic, nonpartisan and unifying note during his address at Fourth of July celebrations in Washington, D.C., as the massive crowd of attendees avoided clashes despite provocations from protesters.
The event defied the critics who said the celebration on Thursday would be a partisan political spectacle that would not even attract a significant crowd. CBS, ABC, NBC and MSNBC snubbed the celebration and didn't air it live, save for their online streaming platforms.