Klayman: Degenerate "Drug Addict" and Criminal Hunter Biden Will Learn His Lesson the Hard Way! He Has Been Indicted by Our Citizens Grand Jury! Now He Will Be Prosecuted With His Father and Uncle!
Order "It Takes a Revolution: Forget the Scandal Industry!" at BarnesandNoble.com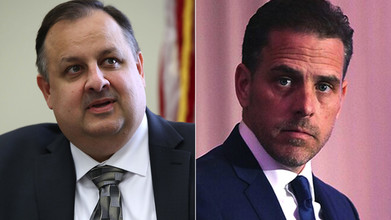 By Houston Keene
Fox News
July 23, 2021
Former President Obama's ethics chief ripped the White House Wednesday after a new report revealed that President Biden's son, Hunter Biden, will be attending two art shows in Los Angeles where his paintings will be displayed and potential anonymous buyers will be in attendance.

The younger Biden will be attending the small LA shows before a larger New York City exhibition of art at his promoter Georges Berges' gallery.

"Oh yes. With pleasure. He's looking forward to it," Berges' gallery spokeswoman Robin Davis told CBS News on Wednesday, confirming Hunter Biden's attendance. "It is like someone debuting in the world. And of course he will be there."



Your help is urgently needed!
Support our cause and join our fight!