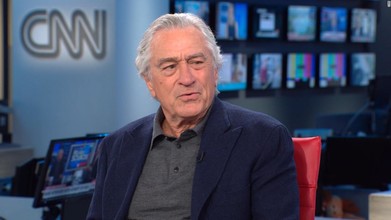 By Clare Duffy, CNN Business
CNN
September 29, 2019
New York (CNN Business)Robert De Niro says he thinks Democrats had no choice but to open an impeachment inquiry into President Donald Trump.
"It has to happen," De Niro told CNN Business' Brian Stelter on "Reliable Sources" Sunday. He called the present political situation a crisis, "and too many people are too gentle and genteel about it. And we're in a crisis situation, period," De Niro said. Two days earlier, on the red carpet for the New York Film Festival opening night premiere of his new film "The Irishman," De Niro told Variety he hopes Trump gets impeached.
House Speaker Nancy Pelosi last week announced a formal impeachment inquiry into Trump after a whistleblower said the president had pressured Ukraine's leader to investigate the son of Democratic presidential candidate Joe Biden.