Klayman: DC Bar Disciplinary Counsel Led by Phil Fox and the DC Board of Professional Responsibility Are Run by Dishonest Leftist Hacks Who Are Attempting to Remove Conservative Lawyers From the Practice of Law in DC!
Order "It Takes a Counter-Revolution!" at Amazon.com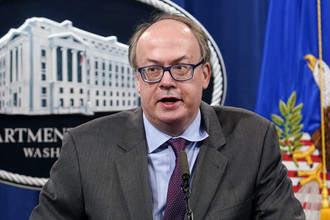 By Kyle Cheney, Josh Gerstein
POLITICO
October 7, 2022
A former Justice Department lawyer who became a close ally in Donald Trump's effort to subvert the 2020 election is fighting to save his law license and stave off other professional discipline from the Washington, D.C. bar.

Jeffrey Clark appeared for a lengthy proceeding Thursday that is a prelude to a disciplinary hearing on claims he violated legal ethics in his persistent efforts to undercut the legitimacy of the 2020 election. The heart of the issue: Did Clark merely offer up unwise suggestions to his superiors — hardly the basis for disciplinary action — or did his persistence in the face of a lack of evidence of fraud render his conduct so inappropriate that he should be punished?

Phil Fox, chief of the D.C. Bar Office of Disciplinary Counsel, which brought the complaint against Clark earlier this year, agreed that "It is generally not a disciplinary violation to make a stupid suggestion."



Your help is urgently needed!
Support our cause and join our fight!