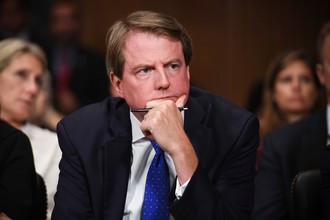 By Josh Gerstein
POLITICO
May 12, 2021
The House Judiciary Committee and the Biden administration have struck "an agreement in principle" to resolve a two-year-old fight over a subpoena for testimony from Don McGahn, a former White House counsel to President Donald Trump, lawyers said in a court filing on Tuesday evening.
Trump has not signed off on the deal, however, according to the status report submitted to the D.C. Circuit Court of Appeals. The former president could try to take legal action to block any testimony from McGahn, but the filing from the House and the Justice Department — now under the control of appointees of President Joe Biden — seems to try to head off such a move by noting pointedly that Trump "is not a party to this case."
The brief submission to the court on Tuesday provided no details on what the House and the department called an "accommodation" to end the dispute, which arose after the House panel subpoenaed McGahn in 2019 to testify as part of an investigation into alleged episodes of obstruction of justice by Trump that McGahn described in a report from special counsel Robert Mueller. The request eventually became part of the House's impeachment inquiry.