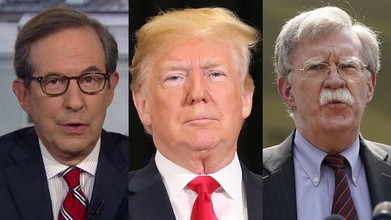 By David Montanaro
Fox News
January 27, 2020
The reported bombshell claim by former National Security Adviser John Bolton has left President Trump's defenders "spinning like crazy" and likely triggered a "furious" response by Senate Republicans toward the White House, "Fox News Sunday" anchor Chris Wallace said Monday.
Appearing on Fox News' live coverage of the Senate impeachment trial, Wallace told anchors Bret Baier and Martha MacCallum that he does not agree with the Trump team's attempts to downplay the New York Times report. In his forthcoming book, Bolton reportedly claims that Trump explicitly linked a hold on Ukraine aid to an investigation of Joe and Hunter Biden.
"If you want a sense of how big the news is that we've heard in the last 12 or 14 hours, just listen to the Trump supporters, like Congressman Lee Zeldin and others, spinning like crazy. You get a sense that this is really an important development in this case," said Wallace.