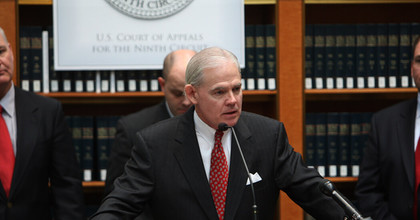 By Michael S. Schmidt
New York Times
February 8, 2021
One of Washington's leading conservative constitutional lawyers publicly broke on Sunday with the main Republican argument against convicting former President Donald J. Trump in his impeachment trial, asserting that an ex-president can indeed be tried for high crimes and misdemeanors.
In an opinion piece posted on The Wall Street Journal's website, the lawyer, Charles J. Cooper, who is closely allied with top Republicans in Congress, dismissed as illogical the claim that it is unconstitutional to hold an impeachment trial for a former president. The piece came two days before the Senate was set to start the proceeding, in which Mr. Trump is charged with "incitement of insurrection" in connection with the deadly assault on the Capitol by his supporters on Jan. 6.
Since the rampage, Republicans have made little effort to excuse Mr. Trump's conduct, but have coalesced behind the legal argument about constitutionality as their rationale for why he should not be tried, much less convicted. Their theory is that because the Constitution's penalty for an impeachment conviction is removal from office, it was never intended to apply to a former president, who is no longer in office.