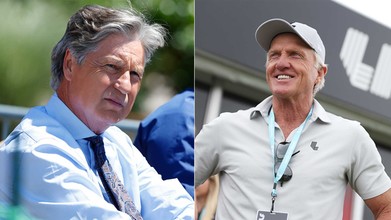 Golf
July 21, 2022
The battle between the PGA Tour and LIV Golf continues, and the same can be said for Greg Norman and Brandel Chamblee.
Chamblee, Golf Channel's lead analyst, has long been one of the most vocal critics of the new Saudi-backed league that continues to snatch players away from the PGA Tour and disrupt the pro game. Norman, the CEO of LIV Golf, has also been one of Chamblee's primary targets.
Last month, Chamblee said Norman and Phil Mickelson, one of the most prominent players to sign on for the league, should both be removed from the World Golf Hall of Fame. In an interview with The Palm Beach Post published last week, Norman was asked for his reaction to Chamblee's comments.