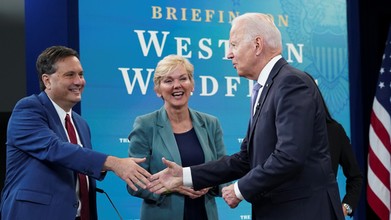 By Charles Creitz
Fox News
October 23, 2021
President Biden found a new group to blame for his inflation and supply chain crises in his Baltimore town hall appearance and simultaneously revealed himself to be unaware of basic economics, the panel on "The Five" discussed Friday.
Host Kennedy pointed to a clip of the president claiming part of the problem with the stalled ship traffic at ports is "longshoremen don't always get along with the business folks there" — further predicting that if he tapped into the United States' vast strategic petroleum reserves, the price of gas would only drop 18 cents per gallon at most.
"It's still going to be above $3.00," he remarked, appearing to dismiss the idea of using American petrol instead of continuing to urge OPEC to increase its production.