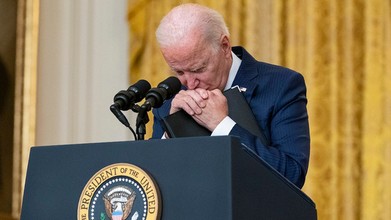 By Charles Creitz
Fox News
September 23, 2021
President Joe Biden's cratering approval ratings in swing states is leading to a sudden dearth of self-proclaimed "Biden voters" among longtime Democrats who still strongly support the party line, the panel on "The Five" discussed Wednesday.
Host Geraldo Rivera pointed to the Delawarean's near-30-percent popularity in the bellwether state of Iowa, less than a year into his term.
"I think that Joe Biden's coattails are shrinking," he said, adding that the biggest worry for Democrats should not be the 2022 midterms but the fact that party infighting is endangering their multi-trillion-dollar "human infrastructure" overhaul and traditional infrastructure legislation.