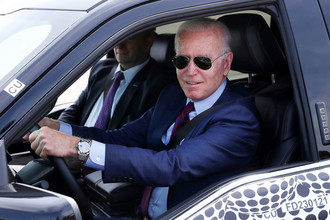 CNBC
May 19, 2021
DEARBORN, Mich. — Ford Motor previewed its new electric F-150 Lightning pickup earlier than planned during a visit Tuesday by President Joe Biden to the Michigan plant that will produce the vehicle.
The highly anticipated truck resembles the automaker's current F-150 but has unique exterior styling such as a closed-off grille and light bar across the front of the vehicle that connects its headlights. Sitting next to a traditional 2021 Ford F-150, the electric pickup appeared to be about the same size with a smoother, more aerodynamic design.
Ford revealed its highly anticipated all-electric F-150 Lightning pickup truck (left) at Ford's Rouge Electric Vehicle Center in Dearborn, Mich. during a tour by President Joe Biden on May 18, 2021.