Klayman: As predicted Hillary Clinton stonewalls interrogatories in Clinton FOIA private server email probe
Judge Sullivan Succeeds In Pushing Meaningful Discovery Past Presidential Elections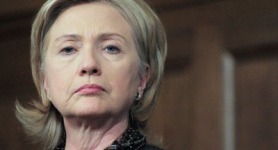 (Washington, D.C., October 13, 2016). Today, Larry Klayman, the founder of Judicial Watch and Freedom Watch issued a statement after Hillary Clinton responded to interrogatories in a companion case which Freedom Watch had filed along with Klayman's former public interest group Judicial Watch. Klayman, a former federal prosecutor, had predicted that these interrogatories belatedly ordered by Judge Emmet Sullivan after years of litigation were essentially worthless in getting to the truth about Hillary Clinton's decision to use and her use of a private email server that breached national security and allowed her to secretly do business while Secretary of State on behalf of her, her husband's and daughter's private Clinton Foundation.
Klayman had this to say after reviewing Hillary Clinton's responses to the interrogatories:
"A simple review of Hillary Clinton's responses shows that she had 'no specific recollection' of any of the answers to interrogatories posed to her. Because Judge Sullivan did not grant Judicial Watch's and Freedom Watch's requests to take a spontaneous oral deposition of her, where she could have been cross-examined with follow-up questioning, the court cleverly allowed Hillary Clinton, through her attorneys (the same attorneys who permanently destroyed tens of thousands of likely relevant emails), to stonewall giving responsive and meaningful answers. Now, even if motions to compel complete and responsive answers are filed, they will not be decided for some time, and Judge Sullivan will have run out the clock - paving the way for Hillary Clinton, whose husband Bill Clinton nominated him to the federal bench, to easily win the presidency.
"In recent years, with a few exceptions the federal bench, particularly in the District of Columbia, where the great majority of judges are either Clinton or Obama appointees, have slow rolled Freedom of Information Act cases in an obvious effort to protect both Hillary Clinton and President Obama.
"I am not one of those conservatives who believes that the judicial branch of government was conceived of by our Founding Fathers to be inferior to the executive and legislative branches. To the contrary, the judicial branch was meant by our Founding Fathers to serve as a check and thus protect We the People from tyranny by these other branches.
"It is a sad day with the judiciary runs interference and protects the political elite and this is why the country today is in state of imminent revolution," added Klayman.
For more information or an interview, contact daj142182@gmail.com or (424) 274 2579.

Your help is urgently needed!
Support our cause and join our fight!