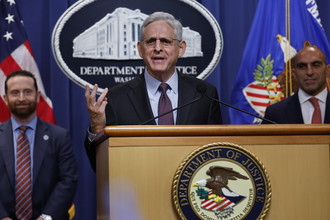 By Josh Gerstein
POLITICO
June 4, 2022
The acquittal of the defendant in the highest-profile case brought by special counsel John Durham intensified calls for him to wrap up his investigation into the origins of the FBI's probe into Donald Trump's Russia ties, but there are few signs that the Justice Department is pressuring Durham to pull the plug.
Durham's semi-annual budget report released Friday showed that his office spent almost $2 million in the six-month period ending in March, down from about $2.36 million in the prior half year, including money federal agencies spent on Durham's behalf.
Those amounts include some of the costs related to the false-statement case Durham brought against Democratic attorney Michael Sussmann, but don't capture the cost of the two-week-plus trial last month that ended with a jury quickly acquitting the former federal prosecutor, who worked for both the Democratic National Committee and the Hillary Clinton campaign in 2016.