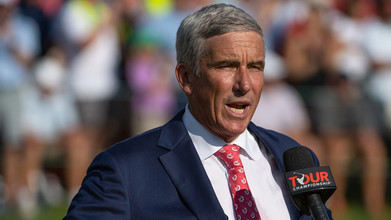 Golf Channel
September 22, 2022
Jay Monahan was asked if he could see any sort of peace or alliance between the two tours, he quickly dismissed the idea.
"Listen, I think I've been pretty clear on this: I don't see it happening," Monahan said. "When you look at where we are, and you think about words and actions, we're currently in a lawsuit, so coming together and having conversations, to me, that card is off the table, and it has been for a long period of time."
Monahan doesn't expect peace between PGA Tour, LIV
Monahan was then asked what was a bigger obstacle in the Tour working with LIV: golf or geopolitical?