Klayman: Another Lying Disloyal Trump Lawyer Who Wants to Maintain His "Standing" in the Sleazy DC Legal Swamp!
Order "It Takes a Revolution: Forget the Scandal Industry!" at BarnesandNoble.com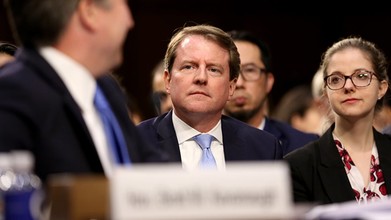 By Rebecca Beitsch, Harper Neidig and Morgan Chalfant
TheHill
June 10, 2021
Former White House counsel Don McGahn confirmed to congressional investigators a key account in ex-special counsel Robert Mueller's report that former President Trump directed him to try to get Mueller removed, according to a transcript of his closed-door testimony released Wednesday.

The 241-page transcript follows a long fought-for interview the House Judiciary Committee finally secured with McGahn on Friday after the Trump White House challenged a subpoena seeking his testimony during Trump's first impeachment investigation. The transcript shows that the interview yielded little new information but confirmed some of the details of Mueller's lengthy report on his 22-month investigation that concluded in March 2018 and with which McGahn cooperated.

Trump has persistently denied any effort to fire Mueller amid the long inquiry, which probed allegations that members of Trump's team had colluded with Russian figures during his 2016 presidential campaign. Yet in Friday's interview, McGahn directly disputed Trump's claims, repeatedly laying out Trump's consideration of firing Mueller.



Your help is urgently needed!
Support our cause and join our fight!