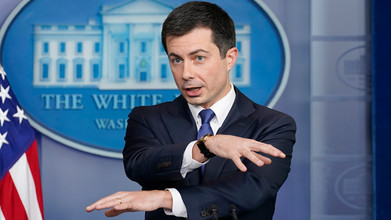 By Jessica Chasmar
Fox News
November 21, 2021
Transportation Secretary Pete Buttigieg said Sunday that there's "a lot to be upset about" following the not-guilty verdict in the Kyle Rittenhouse trial.
Buttigieg was asked by NBC News anchor Chuck Todd to weigh in on the case, which concluded Friday after a jury acquitted Rittenhouse in the fatal shooting of two men during a riot last year in Kenosha, Wisconsin.
"Look, there's a lot of pain in this country, and that pain and that frustration was aroused by the entire case, including the verdict," Buttigieg said. "And for a lot of us, there's just a lot to be upset about, a lot to be concerned about, but we'll move forward as a country.