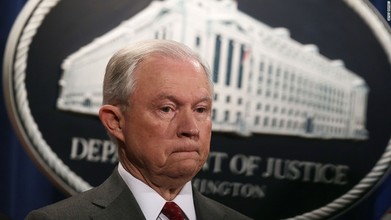 (Washington, D.C., November 16, 2017). Today, Larry Klayman, the founder of both Judicial Watch and now Freedom Watch and a former federal prosecutor filed suit in the U.S. District Court for the District of Columbia (Case No. 1:17-CV-02459) to force Attorney General Jeff Sessions and FBI Director Christopher Wray and the heads of the Department of Justice's Office of Professional Responsibility (OPR) and Inspector General (IG) to expeditiously investigate and remedy the continuing illegal grand jury leaks and conflicts of interest emanating from the Office of Special Counsel Robert Mueller. Having previously filed an administrative complaint with OPR and IG, and these investigative arms of the Justice Department having failed to take action, Freedom Watch's complaint asks the district court to order investigations and once the illegal leaks and conflicts are confirmed, to compel the termination of Special Counsel Mueller.
Klayman had this to say after filing this legal action:
"It is time that someone take action to stem the criminal and otherwise illegal activity of Mueller and his staff. He is not above the law and must play by the same rules as all federal prosecutors. Mueller's jihad against President Trump and his present and former colleagues is abhorrent and a huge waste of taxpayer money destructive of the nation's body politic during these dire times, but even were this 'witch hunt' legitimate, there is no ethical or legal justification in using leaks of grand jury information and activities to destroy lives before defendants and putative defendants are even indicted and tried before a jury of their peers. Mueller, who is not a man of integrity but simply a Washington establishment politician, must now have to answer himself to the bar of justice.
"Freedom Watch is taking this action since Deputy Attorney General Rod Rosenstein, an Obama holdover as U.S. Attorney for the District of Maryland, himself has a conflict of interest and has abdicated his duty to police Special Counsel Mueller! Rosenstein has and will put his Democrat leaning politics ahead of duty!"
This complaint is embedded below and can also be found at www.freedomwatchusa.org.
For more information, contact daj142182@gmail.com or <424-274-2579>(424) 274 2579.424-274-2579>