Klayman and Freedom Watch File New Amicus Brief Seeking En Banc Review of Ninth Circuit Temporary Restraining Order (TRO) Enjoining Implementation of Trump Temporary Ban of Immigration From 7 "Terrorist" Middle Eastern Nations!
(San Francisco, Ca. February 14, 2017). Today Larry Klayman, founder of both Judicial Watch and now Freedom Watch, filed a new amicus curiae brief seeking en banc review. This brief is embedded below and can also be found at
www.freedomwatchusa.org
.
Klayman had this to say upon filing the amicus brief:
"President Trump and his Justice Department should not only join us in seeking en banc review of the outrageous and lawless TRO issued by leftist federal judge James Robart and effectively affirmed by the Ninth Circuit, but also quickly redraft its executive order to implement the president's temporary ban on immigration from 7 "terrorist" Middle Eastern nations. This battle against corruption in the federal judiciary, as well as to further national security in the face of leftist opposition, can thus be fought on two fronts. In addition this whole sordid legal affair underscores the need for President Trump to appoint non-political federal judges, who obey the law and Constitution as written. Freedom Watch's Judicial Selection Strike Force, composed of various conservative and other responsible interests, seeks to vet and recommend these would-be jurists to President Trump, as there are over 100 federal vacancies on the federal bench that can now be filled." See
www.judicialselectionstrikeforce.org
.
For more information or an interview, contact daj142182@gmail.com or (424) 274 2579.
View Documents
Motion to File Amicus Rehearing
Amicus Brief Rehearing
---
URGENT: Please Sign These Petitions to Remove Mueller and Sessions and to Have Klayman Appointed as Special Counsel to Investigate the Clintons and Finally Bring Criminal Charges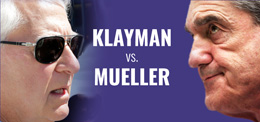 Sign Our Petition to Remove Robert Mueller as Special Counsel
We the People Call On President Trump to
Remove Robert Mueller
as Special Counsel and to Appoint
Larry Klayman
to Investigate the Clinton Email, Uranium One, and Fusion GPS Scandals! We Also Support Freedom Watch's
Lawsuit to Remove Mueller
Sign Now!
---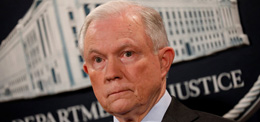 Sign Our Petition to Remove Jeff Sessions as U.S. Attorney General
We the People Call on President Trump to
Remove Jeff Sessions as Attorney General
and Replace Him With a Competent Attorney Who Has the Guts to Prosecute Hillary Clinton, James Comey, Robert Mueller, and Others That Were Part of the Corrupt, Even Treasonous, Obama Administration and Hold Them Accountable for Their Crimes!
Sessions'
Incompetence
and "
Disgraceful
" Dereliction of Duty Regarding His Inaction on Fusion GPS, the Phony Steele Dossier, and the Illegal and Unconstitutional Wiretapping of the President and His Associates Disqualify Him From the Office of Attorney General. We Demand He Resign or Be Removed!
Sign Now!

Your help is urgently needed!
Support our cause and join our fight!