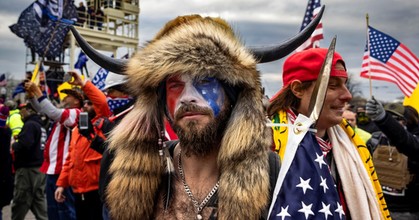 NBC News
November 30, 2021
The man known as the "QAnon Shaman" said he has hired two new lawyers, indicating he is likely to appeal his sentence this week for his role in the Jan. 6 Capitol riot.
The man, Jacob Chansley, who wore face paint and horns during the riot, said at a brief hearing Monday that he intended to hire the attorneys and confirmed that he had fired his previous defense counsel, Albert Watkins. Chansley was sentenced this month to 41 months in prison after he pleaded guilty to a count of obstruction when Watkins represented him.
"Mr. Chansley is an extremely smart man, very intelligent, if not savant-like, and I sincerely wish him all the best in his life," Watkins told NBC News after the hearing.